WHERE THE FOUR SEASONS MEET
"The seasons are what a symphony ought to be: four perfect movements in harmony with each other"
Hillcrest, Binda is in the Southern Uplands which sit at 700-1,100 metres. This really is a landscape where the four seasons meet in wonderful and at times spectacular presentations of colours and form.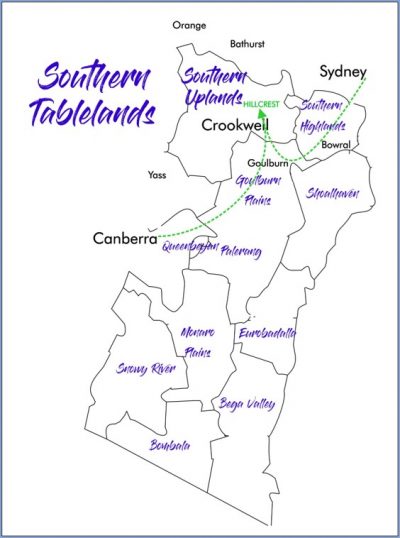 The noted Australian historian William A. Bayley described Binda and surrounds of Crookwell by way of:
"Nestling in an uplands cradle where The Great Dividing Range sends streaming to the western rivers, the waters from the winter snows and never-failing showers of spring…
Reminiscent of the Downs of England, the undulating emerald hills roll towards the horizon on every hand. Upon the verdant pastures, where once the forest grew, graze the flocks which have the surrounding plateau into a land of fortune."
Hillcrest Binda sits at the centre of the newly restructured state road MR54 between Goulburn and Bathurst-Orange. This also connects to Canberra from Crookwell via Gunning and offers a major new route into our national capital.
Sydney GPO to Binda is 3 hours and Canberra to Binda is 1-1/2 hours on roads now easy to drive.
Binda is an historic area – opened up in the 1820s for pasture just three decades after First Settlement by the British in 1788. In the 1850s and 1860s Binda underwent explosive population growth as the Gold Rushes transformed Australia. Ben Hall, Australia's most prominent bushranger was particularly active in and around Binda.
Today, Binda is a small hamlet with its collection of stone buildings with Georgian influences all now restored and with delightful gardens.  It is a tranquil and charming haven just 15 minutes from Crookwell, a town of some 2,500 and some of the richest grazing and farming lands in NSW.